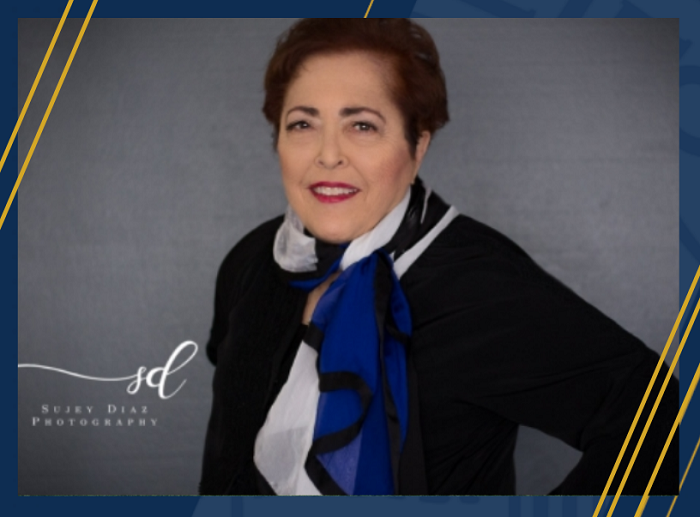 The Margo F. Souza Student Leadership Center aspires to develop students' leadership skills, knowledge, capacity, and self-efficacy while also empowering students to thrive as life-long learners and leaders in the 21st century. The Souza Leadership Center is a unit within The Office of Leadership, Service and Career. The center would not exist without the generous contributions of Central Valley local Margo F. Souza (pictured left), a champion for student leadership at UC Merced. 
We carry out our mission with equity & inclusion in mind. We create programs that encourage students to celebrate and bring every part of their intersecting identities to the table (from gender identity, ethnic identity, personality traits, and all other identities they hold). Diversity in thought is important in leadership. We honor and encourage our students, staff, invited speakers, and all of our partners to bring their unique voice, backgrounds, and experiences to their leadership journey. We expect those invited into our community to respect, value & educate themselves on identities & experiences different than their own. More.

   All of our initiatives align with the mission of UC Merced and the Strategic Initiatives of the Division of Student Affairs.

We believe great leaders consider equity, diversity and inclusion in everything they do.
We believe great leaders consistently aim to create enrivorments that move their teams, their organizaitons, and their communities towards a  more equitable world. We understand that many inequities exist in the current state of leadership and leader development in the U.S. and throughout the World.  We aim to develop leaders who are resilient in overcoming these challenges and who prioritize understanding these issues (which include racial and gender inequities, among many additional frameworks of oppression). We challenge the leaders with whom we work to address such disparities in all spaces in which they engage in leadership. We are a small staff at the Souza Leadership Center, but we strive to create a team that is diverse in identities, experiences, and perspectives. We encourage civil disagreement as we believe this will lead to better results and more inclusive programs for student leaders.
Learn more about our efforts here. 

Our Major Annual Events 
Annual UC Merced Leadership Conference | September 24th, 2022 | Open to all students!
Annual UC Merced Student Leadership Awards | Friday, April 29, 2022, 5:30pm - 8:00pm  |  A celebration of leadership! 
---
  Our Core Programs 

  Campus & Community Support 

Strategic UC Merced Campus Partners
Office of Medical Education -  Lead Pre-Health
School of Natural Sciences Pre-Health Advising - Lead Pre-Health
Center for Career and Professional Advancement - Lead Pre-Health
Center for Undocumented Student Services - UndocuBobcat Leadership Seminar
Vanguard (umbrella organization for engineering student organizations) - Engineering Leadership Initiative
Office of Residential Education - Leadership & Service Living Learning Community (LLC)
Community Engagement Center - Leadership & Service Living Learning Community (LLC)
Office of Student Involvement - Leadership Awards
Recreation & Athletics -  Yosemite Leadership Program
University Friends Circle - University Friends Circle Community Organization Award
Strategic External Partners
Merced County Hispanic Chamber of Commerce - MCHCC Leadership Seminar
Jr. Leadership Merced - Annual College Day 
Dominican University of California - The LeaderShape Institute
Yosemite National Park - Yosemite Leadership Program
RFK Human Rights - RFK Young Leaders, UC Merced Chapter
---

In the News
Nature Retreat Teaches Students the Importance of Service to Community | Read Article
The Souza Leadership Center's Warm Virtual Welcome to New Students Article
The Souza Leadership Center welcomes young leaders from Merced! | Read Article

  Our Team 
The Souza Leadership Center Staff

Brian O'Bruba, Executive Director, Office of Leadership, Service and Career, bobruba@ucmerced.edu
Alyssa Hunt, Administrative Team, Office of Leadership, Service and Career, ahunt11@ucmerced.edu
Lidia Haile, Student Staff, Programming and Operations Lead, lead@ucmerced.edu

The Yosemite Leadership Program Team

Jesse Chakrin, Director, UC Merced Wilderness Education Center,  Yosemite National Park Staff, jchakrin@ucmerced.edu
Brian O'Bruba, Executive Director, Office of Leadership, Service and Career, bobruba@ucmerced.edu

UndocuBobcat Leader Development Student Facilitators

Luis Figueroa Ramos, Services for Undocumented Students
Fatima Gabriela Ibanez, Services for Undocumented Students

Student Advisory Board 2021-22

Janet Norio, Chair
Maricela Vazquez Aviles, Board Member
Ukamaka Ezimora, Board Member
Sabastian Rosas, Board Member
Zachary Silva, Board Member
Dennis Do, Board Member
Eghosa Isibor, Board Member
---

---

Margo F. Souza, former president and CEO of Turlock's Circle H Dairy Ranch Inc., has pledged $1 million to establish The Margo F. Souza Leadership Center — a multi-faceted leadership program — housed within UC Merced's Office of Leadership, Service and Career. Souza, an alumna of Seattle University, said graduating from college has enriched her life immensely. Her passion for leadership and desire to help youth led her to donate to the newest UC campus. She believes the leadership center will be the catalyst to guide students — more than 60 percent of whom are the first in the family to earn a college degree — to become strong leaders and contributing members of society.
"We need to reinvent our future through the eyes of our youth," said Souza. "Over time, this university will enhance and change many lives in the Central Valley." Margo Souza is passionate about Gender Equity, Entrepreneurship, and Leadership. 
Click Here to read the press release about her generous donation to the university.

---
---
Thank you for visiting The Souza Leadership Center! Visit our Contact Page for recent updates!
---
---