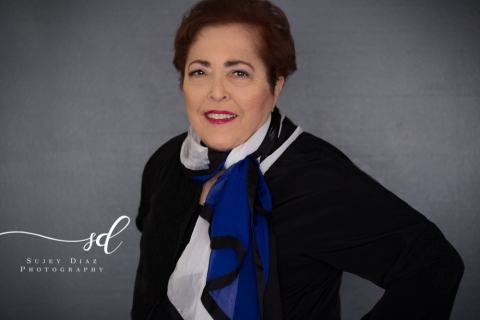 The Margo F. Souza Student Leadership Center aspires to develop students' leadership skills, knowledge, capacity, and self-efficacy while also empowering students to thrive as life-long learners and leaders in the 21st century. The Souza Leadership Center is a unit within The Office of Leadership, Service and Career. The center would not exist without the generous contributions of Central Valley local Margo F. Souza (pictured left), a champion for student leadership at UC Merced. 
We carry out our mission with equity & inclusion in mind. We create programs that encourage students to celebrate and bring every part of their intersecting identities to the table (from gender identity, ethnic identity, personality traits, and all other identities they hold). Diversity in thought is important in leadership. We honor and encourage our students, staff, invited speakers, and all of our partners to bring their unique voice, backgrounds, and experiences to their leadership journey. We encourage all those invited into our community to respect, value and educate themselves on identities and experiences that are different than their own. Learn more.
---
All of our initiatives align with the mission of UC Merced and the Strategic Initiatives of the Division of Student Affairs.
---
Our Annual Events 
Annual UC Merced Leadership Conference | September 24th, 2021 | Open to all students!
Annual UC Merced Student Leadership Awards | Friday, April 29, 2022, 5:30pm - 8:00pm  |  A celebration of leadership! 
---
Our Programs 
---
Campus & Community Support 
---
The Souza Leadership Center Core Leadership Skills: View PDF
---
In the News
---
Our Team 
---
About Margo F. Souza

Margo Souza, former president and CEO of Turlock's Circle H Dairy Ranch Inc., has pledged $1 million to establish The Margo F. Souza Leadership Center — a multi-faceted leadership program — housed within UC Merced's Office of Leadership, Service and Career.
Souza, an alumna of Seattle University, said graduating from college has enriched her life immensely. Her passion for leadership and desire to help youth led her to donate to the newest UC campus. She believes the leadership center will be the catalyst to guide students — more than 60 percent of whom are the first in the family to earn a college degree — to become strong leaders and contributing members of society.
"We need to reinvent our future through the eyes of our youth," said Souza. "Over time, this university will enhance and change many lives in the Central Valley." Margo Souza is passionate about Gender Equity, Entrepreneurship, and Leadership. 
Click Here to read the press release about her generous donation to the university.
---
We value your feedback and ideas. Please contact us with comments, suggestions, or for additional information at lead@ucmerced.edu. | Our campus location (Kolligian Library 184) is closed until further notice due to COVID. However, our center is currently operating remotely, and continuing our programs at full capacity.
Visit our Contact Page for our most recent updates!
---