The Souza Leadership Center's Student Advisory Board
The Margo F. Souza Student Leadership Center's Student Advisory Board consists of campus leaders who are engaged in leadership across campus. Our Board members provide us with guidance to ensure that all initiatives in which The Souza Leadership Center engages are done with students' best interest in mind. Our Board members also meet regularly to provide support with many Souza Leadership Center events, including the annual UC Merced Leadership Conference and the annual UC Merced Leadership Awards! We are grateful for the time & dedication of our talented, passionate Board Members! 
---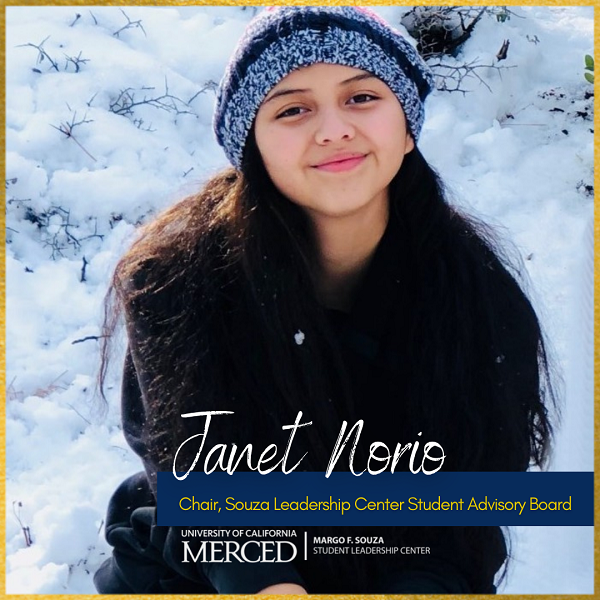 Janet Norio, Chair - Souza Leadership Center Student Advisory Board
Janet is a 3rd-year student and has been part of the Student Advisory Board for 3 semesters. She has participated in our center through our leadership development program BLS and has attended the UC Merced Leadership Conference since 2019. She now serves as 21-22 Chair.
"The Leadership Center has captured my attention since my first year when attending the leadership conference. Now in my second year as part of the Student Advisory Board, I am able to work behind the scenes on many events and spread leadership across our community. Leadership inspires me because we can see it everywhere from our families to the great leaders of the world. I want to have the potential to transform our world in even the smallest ways as a leader."
---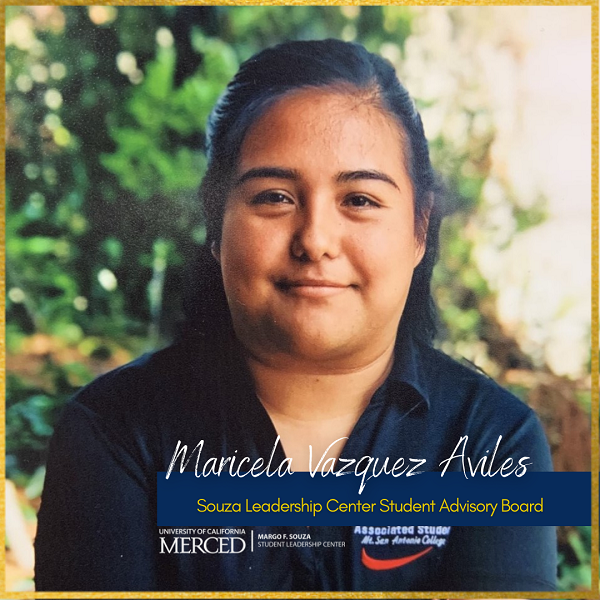 Maricela Vazquez Aviles is a Junior and Transfer Public Health major. Maricela has been part of the Student Advisory Board for 2 semesters. Maricela has also participated in the 2020 UC Merced Leadership Conference. 
"In leadership, I am inspired by my friends, my community, my family, equity and the planet. As an undocumented, former foster youth first-generation, and non-traditional student. I didn't see myself as a leader, but being part of the leadership center has made me realize that we all have a leader in us.
"As we become leaders, we should support others to reach their potential and encourage them to make a difference on campus and in their communities."  
---
 
Ukamaka Ezimora is a 2nd-year student and Mechanical Engineering major.
Ukamaka joined the Student Advisory Board in the Fall 2021 semester. She has participated in the THRIVE leadership development program in Summer 2020. 
"Leadership to me means giving a voice to the unheard, and representing the underrepresented."  - Ukamaka Ezimora
---
Not Yet Pictured
Sabastian Rosas, Board Member

Zachary Silva, Board Member

Dennis Do, Board Member

Eghosa Isibor, Board Member

Thank you to our Board Members for your leadership & dedication! Go Bobcats!