Charah Coleman | Financial Wellness Thought-Leader & Advocate | UC Merced Financial Wellness Center 

Wed. Oct. 14  |  3:30pm - 4:30pm
Charah is an MBA candidate at CSU Fresno and currently serves as the founder and coordinator of UC Merced's new Financial Wellness Center. She has been publicly recognized for her philanthropy, economic justice, and financial empowerment within the Central Valley.
Charah is passionate about protecting the environment and its wildlife. She believes that we are on this earth to display compassion and better the communities around us.
Charah joined UC Merced in Spring 2020, and has already made a large impact in the UC Merced community. Charah will discuss with the participants of BOLD the connection between Financial Empowerment and Leadership.
Charah will also discuss the importance of understanding financial wellness as it relates to advocacy, support and unity as it relates to the Black community at large, as well as specifically the Black Bobcat community at UC Merced. 
---
Devin Baldwin | Virtual and Augmented Reality & Emerging Technology | Oakland, CA  
Wed. Oct. 21  |  3:30pm - 4:30pm
Devin Baldwin was born and raised in Los Angeles, California and is now based in Oakland, California. He is an emerging leader in the field of Virtual and Augmented Reality & Emerging Technology. Devin is currently increasing his presence in various emerging platforms within the Tech Industry. 
Devin has an Associates Degree in Computer Programming and is currently pursuing his B.S. in Computer Science at California State University - East Bay. He started his career in the tech industry as a Web Developer with a focus on the capabilities of the web browser. He now works with Virtual and Augmented Reality and is passionate about crafting new methodology for emerging technologies and teaching the youth how to utilize their resources when learning how to code. Devin is a Content Creator and a WebXR Developer. 
Devin is also the founder of Devinci Tech Solutions. 
---
Leah Barros | Leader in Policy & Legislature | Influential in passing California's CROWN Act | Sacramento, CA
Wed. Oct. 21  |  3:30pm - 4:30pm
Leah Barros began her legislative career in Sacramento working for Assemblymember Susan Talamantes Eggman. She credits her unique approach to advancing clients' policy goals and strengthening their political brands to her experience working in the Assembly as both a Capitol legislative and local district staffer. Prior to working for the legislature, Leah worked on legislative and policy issues for the County Behavioral Health Directors Association, handling projects to reduce mental health stigma and identify cultural barriers to reduce disparities in communities of color.
Leah's most notable achievements include leading the lobbying effort to help secure passage of the Creating a Respectful and Open Workplace for Natural Hair Act: the first statewide law in the country to prohibit racial discrimination on the basis of natural hairstyles in the workplace and schools. Additionally, she has advocated for an array of healthcare clients from providers to patients, from biopharmaceuticals to non-profit and government services. She has also worked extensively on labor and employment issues, and represents victims of discrimination, sexual assault, and health disparities.
Leah holds a bachelor's degree in Child Development and a master's in Social Work with an emphasis in Social Welfare Policy from California State University, Sacramento. Leah serves on the Board of Directors of the Institute of Governmental Advocates and is a member of California Women Lead. She is also actively engaged in a local movement to help remove the stigma attached to holistic health and healing in communities of color.
---
Helton Sanches, MSc | Financial Analyst and Founder of LinkingUs | Lisbon, Portugal 

Wed. Oct. 21  |  3:30pm - 4:30pm
Helton Sanches, was born in Assomada, Santiago, Cabo Verde, in Western Africa, and is currently based in Lisbon, Portugal. He has a bachelor's degree in Business Administration and Management and a master's degree in Finance.
Helton has started his career in the banking industry and is currently working as a financial analyst at a rating agency. He is passionate about music, books, Capoeira and the social impact industry, to which he dedicates a considerable amount of time and energy.
Helton is Founder of the professional network (LinkingUs), which advocates for diversity, inclusion and professional growth, while building bridges between the African diaspora in Lisbon, Portugal, and the broader community. Over the past few years, he has dedicated himself to many volunteer projects aimed at making a social impact. 
Helton is also a Board Member for the nonprofit Cabo Verdean organization, RanjaCV.org. 
---
Lorene Fisher, M.A. | UC Merced Office of Social Justice Initatives | Founder, Inclusive Visions | Merced CA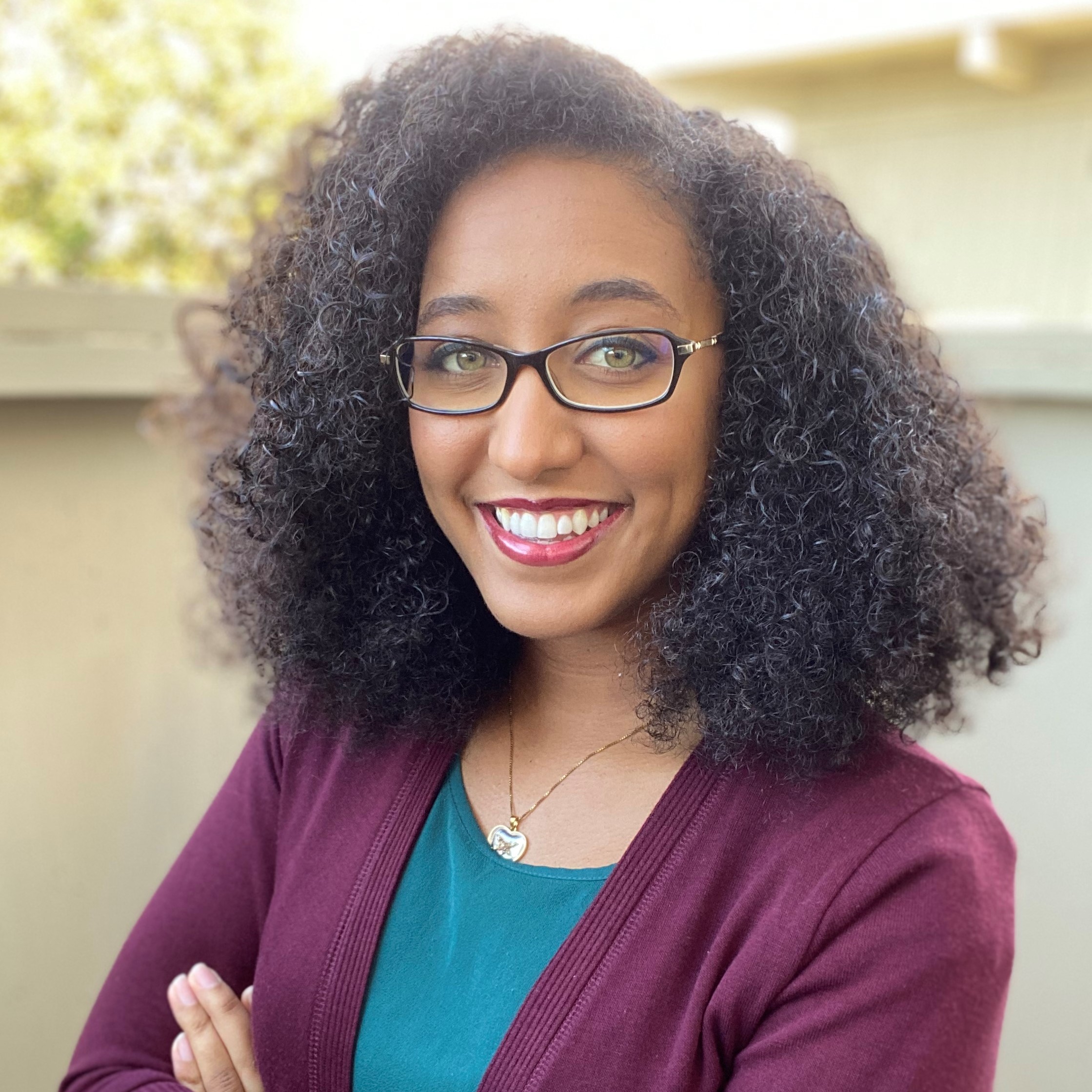 Wed. Oct. 21 & 28  |  3:30pm - 4:30pm
Originally from Chino, CA, Lorene Fisher identifies as a multiracial Black cisgender straight woman of faith. She holds a B.F.A. in Dance, certificates in Africana Studies and Business Administration, and an M.A. in Higher Education from the University of Arizona. She is also a certified yoga teacher and has trained in mindfulness practices to help navigate racial trauma. 
Bringing this lens of her intersectional identity and experiences, Lorene hopes to inform and influence change agents through social justice education, holistic wellness and healing practices, and creative leadership opportunities.
Currently, Lorene serves as a Coordinator in the Office of Social Justice Initiatives and Identity Programs at UC Merced, and a dance and yoga instructor in Atwater, CA. She strongly believes that together, we can transform our communities into hubs for innovation, social change, and radical healing. 
---
Sophiyat Sadiq | Global Gender Equality & Technology Advocate | Lagos, Nigeria  
Wed. Oct. 28  |  3:30pm - 4:30pm
Sophiyat Sadiq is a global gender equality advocate, and an emerging leader in technology. Sophiyat is the current local Chapter President of UNITE 2030. UNITE 2030 is a growing community of over 5,000 Changemakers from all across the world. The UNITE 2030 community collectively, has the knowledge, networks, and resources to create lasting impact. With 23 Chapters around the world since the launch of the Changemaker Chapter Program in 2019, UNITE 2030 is building one of the most impactful global Changemaker communities that exists. 
Sophiyat is currently pursuing her Bachelor's Degree in Computer Science at Lagos State University. Sophiyat is also the Programs Director for Girl Hub Africa, a youth led volunteering network offering fantastic opportunities for young people to make their mark on their community. Sophiyat is also Co-Chair of the Youth Advisory Board of Conquer for Women's Technology Empowerment Centre, a Nigerian Non-Governmental Organization that works towards the economic and social empowerment of girls and women in STEM, using information and communication technologies. 
---
Dr. Adrien Sebro |  Assistant Professor, University of Texas - Austin 

BOLD Co-Facilitator - Wed Oct. 21 & 28  |   3:30pm - 4:30pm
Dr. Adrien Sebro specializes in critical media studies at the intersections of television, film, comedy, gender, and African Diaspora studies. Dr. Sebro writes and teaches on U.S. Black television sitcoms, television history, filmmakers of the African Diaspora, and the media's role in initiating social change and activism. In the classroom, he aims to instruct his students on the roles, responsibilities, and powers (social and political) of media over time as a reflection of its temporal moment.
He is currently writing his first book manuscript, To Scratch and Survive: Hustle Economics, Gender Politics, and Creative Dissent at Tandem Productions, which explores a production history and the representation of racial identity formation in the all-Black cast sitcoms of Tandem Productions: Sanford and Son (1972-1977), Good Times (1974-1979), and The Jeffersons (1975-1985). Dr. Sebro is a graduate of the UC system with both his B.A. and PhD. He received his Master's degree at Columbia University in New York City. 
---