Thank you to all who attended the 2021 UC Merced Student Leadership Conference!
---
This page contains information from the 2021 conference, as well as the recorded presentations for your viewing. We hope to see you next year. Please save the date for the 2022 UC Merced Leadership Conference, September 24, 2022.  We cannot wait!
---
3:00pm | Opening Session: Student Leadership Presentations
5:30pm | Keynote: SHAVONE. (Webinar)
6:30pm | Meet & Greet with SHAVONE. | Zoom Meeting for UC Merced Alumni & Students
---
---

OUR KEYNOTE SESSION | AN INSIPIRING EVENING!
KEYNOTE SPEAKER: SHAVONE. Musician & Ford Model; Founder, Future Of Creatives Group; Director, Communications & Creative Partnerships VSCO
---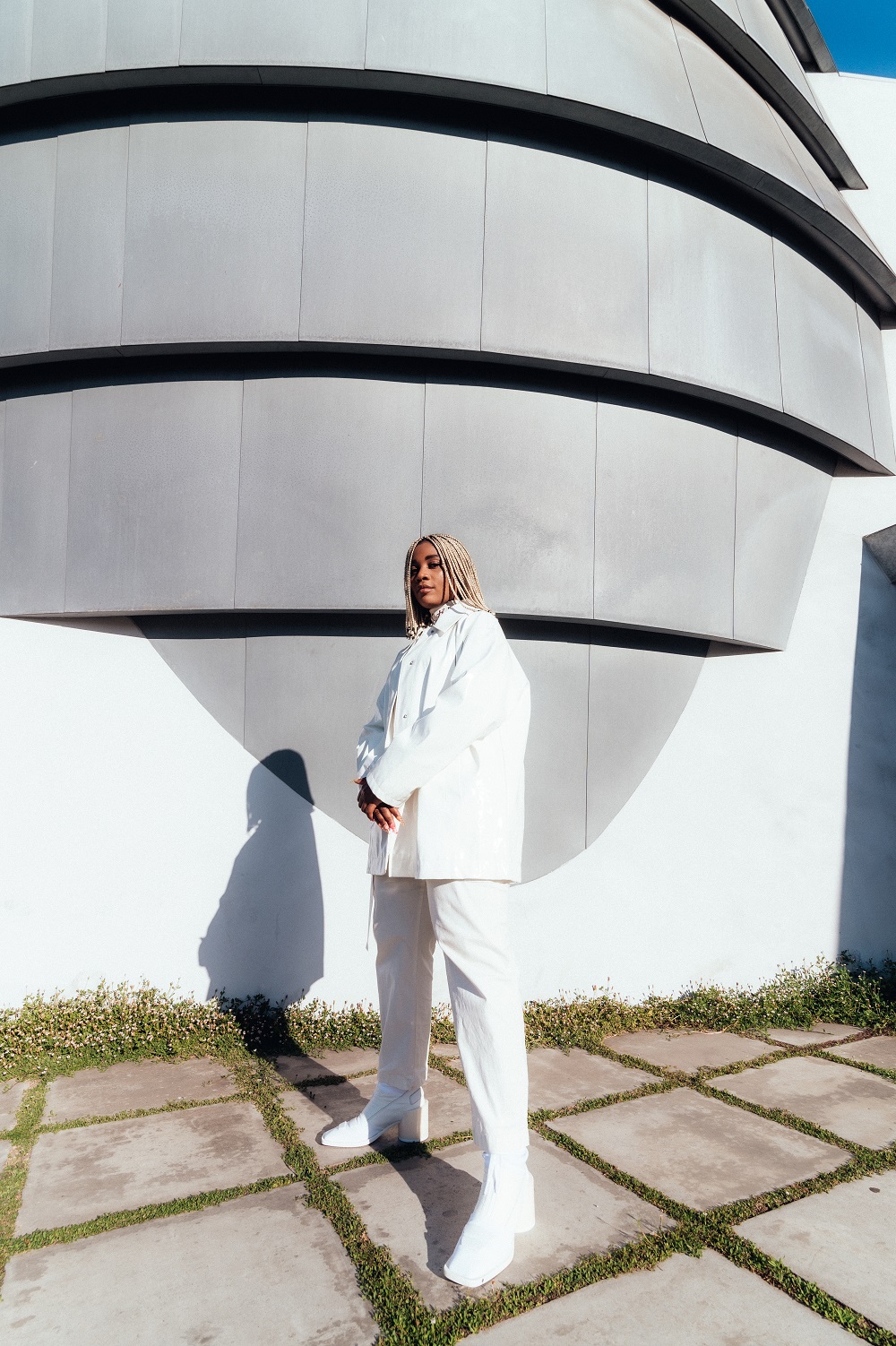 SHAVONE. is a multi-hyphenate creative and force in music, fashion and tech. She's known across industries as a renaissance woman who continues to disrupt the norm as a classically-trained musician, model and change-maker in tech, named on Forbes' 30 Under 30 Marketing & Advertising list. SHAVONE. is dedicated to disruptive thinking, supporting women in creative fields and amplifying the stories of underrepresented voices.  Whether it's SHAVONE.'s influence in fashion or her pursuit to break the mold as a millennial who's trailblazing a new path for future generations of women in tech and entertainment, SHAVONE. is disrupting industries as a champion of creativity and inclusion. Her influence in fashion, tech and music have been profiled in outlets like Billboard, Coveteur,  DAZED, Complex UK, Hypebeast, PAPER, ELLE, and EBONY, noting her history-making moves as the first African-American woman and trailblazer to create roles held at both Twitter and Instagram.
SHAVONE. also currently heads up Creative Partnerships and communications at VSCO out of Los Angeles. As a tastemaker and founder of her own consultancy and creative group, Future Of Creatives, SHAVONE. has collaborated with top brands across industries, ranging from Nike to Google, Spotify, Dapper Dan, Twitter and Instagram.
---
Questions? Lead@ucmerced.edu 
---
---
---

OPENING SESSION REMARKS | MARGO F. SOUZA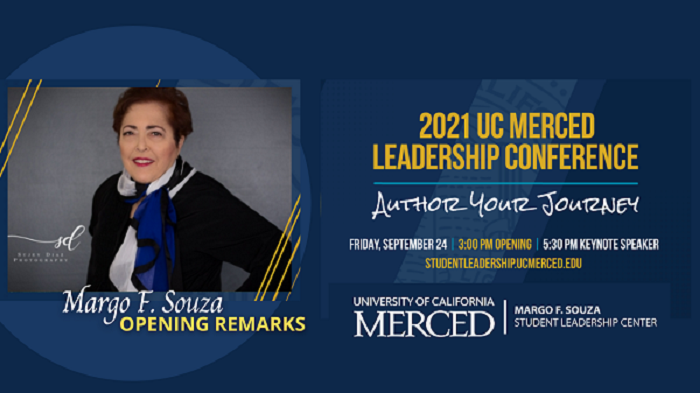 The UC Merced Leadership Conference would not be possible without the continuous contributions and dedication of Margo F. Souza! Margo is a champion for leadership and for the UC Merced community. Thank you so much Margo!
---
OPENING SESSION | STUDENT PRESENTATIONS
FRIDAY SEPTEMBER 24TH |  3:00pm  - 4:15pm
---
Lupita Carranza, 4th-Year Student Leader at UC Merced
Lessons Learned in Leadership During the 2020-2021 Academic Year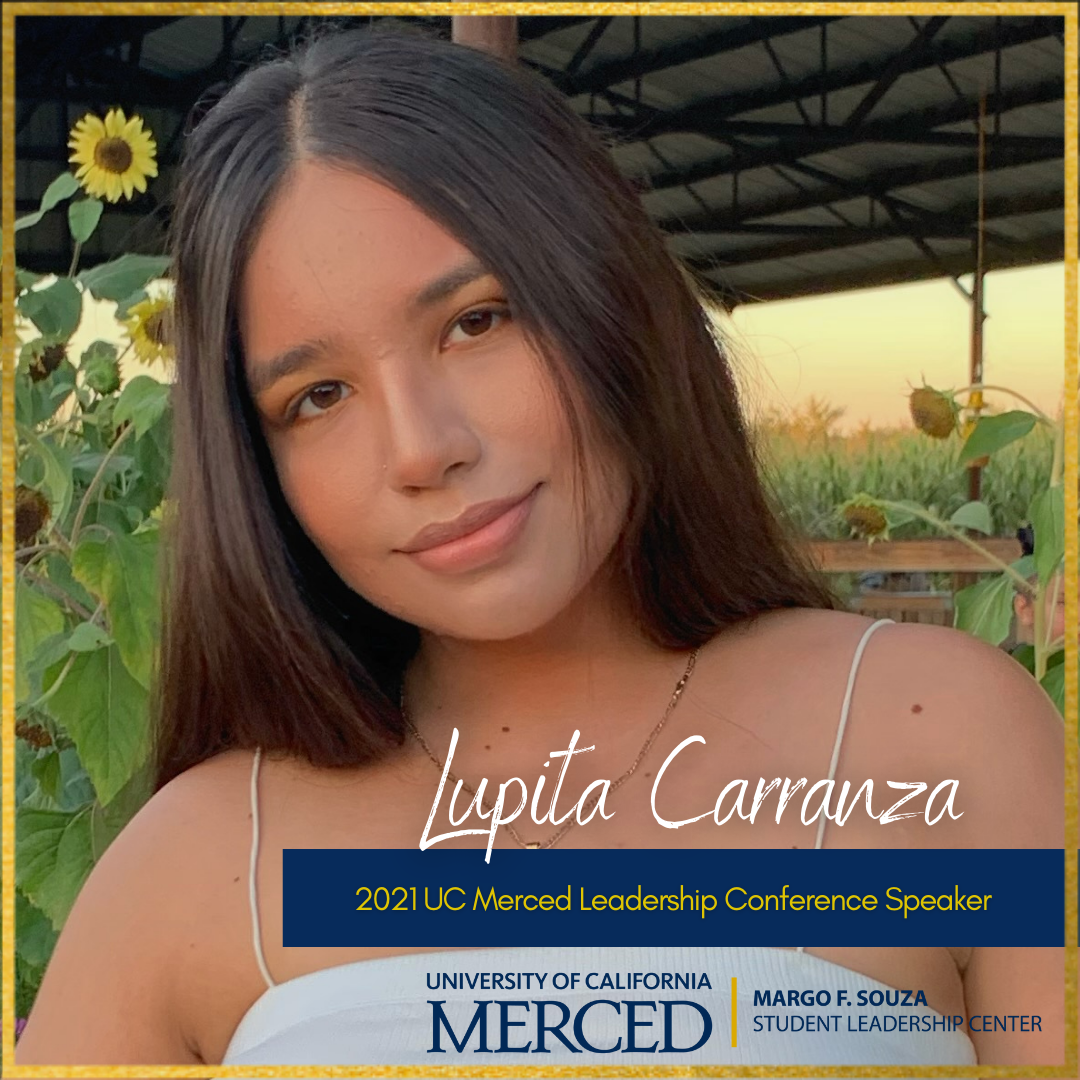 Lupita Carranza is a 4th-year student majoring in Management and Business Economics, and Psychology at the University of California, Merced. Lupita is passionate about self-growth and sharing leadership lessons learned during the remote academic year that was brought upon us during the pandemic. Lupita learned many lessons along the way, including the importance of finding your "why." Why do you want to engage in leadership and what do you hope to achieve with it? Lupita also learned through listening to her team, the power of taking a step back and redirecting goals based on the needs of the team. Lupita will share with attendees of this year's 2021 UC Merced Leadership Conference her story and how other student leaders can author their journey as they engage in leadership at UC Merced and beyond.  
Lupita will also discuss the significance of understanding how reflecting on your values is one the most important leadership practices that exist, especially during challenging times, when authoring your journey and supporting others is the most difficult. Join us in hearing from student leader Lupita Carranza, our opening presenter of our Opening Session! 
---
Ethan Murcia, President Vanguard Engineering Society, President American Institute of Aeronautics and Astronatuics (AIAA)
Unpausing: Taking of Your People
Ethan Eric Murcia is a 5th-year mechanical engineering student at the University of California, Merced. He has had numerous extracurricular experiences such as being president of the American Institute of Aeronautics and Astronautics (AIAA) and Vanguard Engineering Society. In addition, he is currently serving as a Senator for the School of Engineering in the Associated Students of UC Merced (ASUCM).
In all three organizations, Ethan's focus has been on providing opportunities for development in leadership, professionalism, and technical skills - all of which are valuable in building a member's human capital.
Outside of UC Merced, Ethan serves in the U.S. Air Force Reserve and is enrolled in the Airman Leadership School, which continues to strengthen his leadership craft.
Ethan applies servant leadership, a leadership style, in all interactions and initiatives. It is his mission to take care of his members by aiding in their professional, leadership, and technical development.
---
Brandon Lopez, Yosemite Leadership Program and Leadership & Service Living Learning Community 
Self Advocacy & Self-Discovery as a Student Leader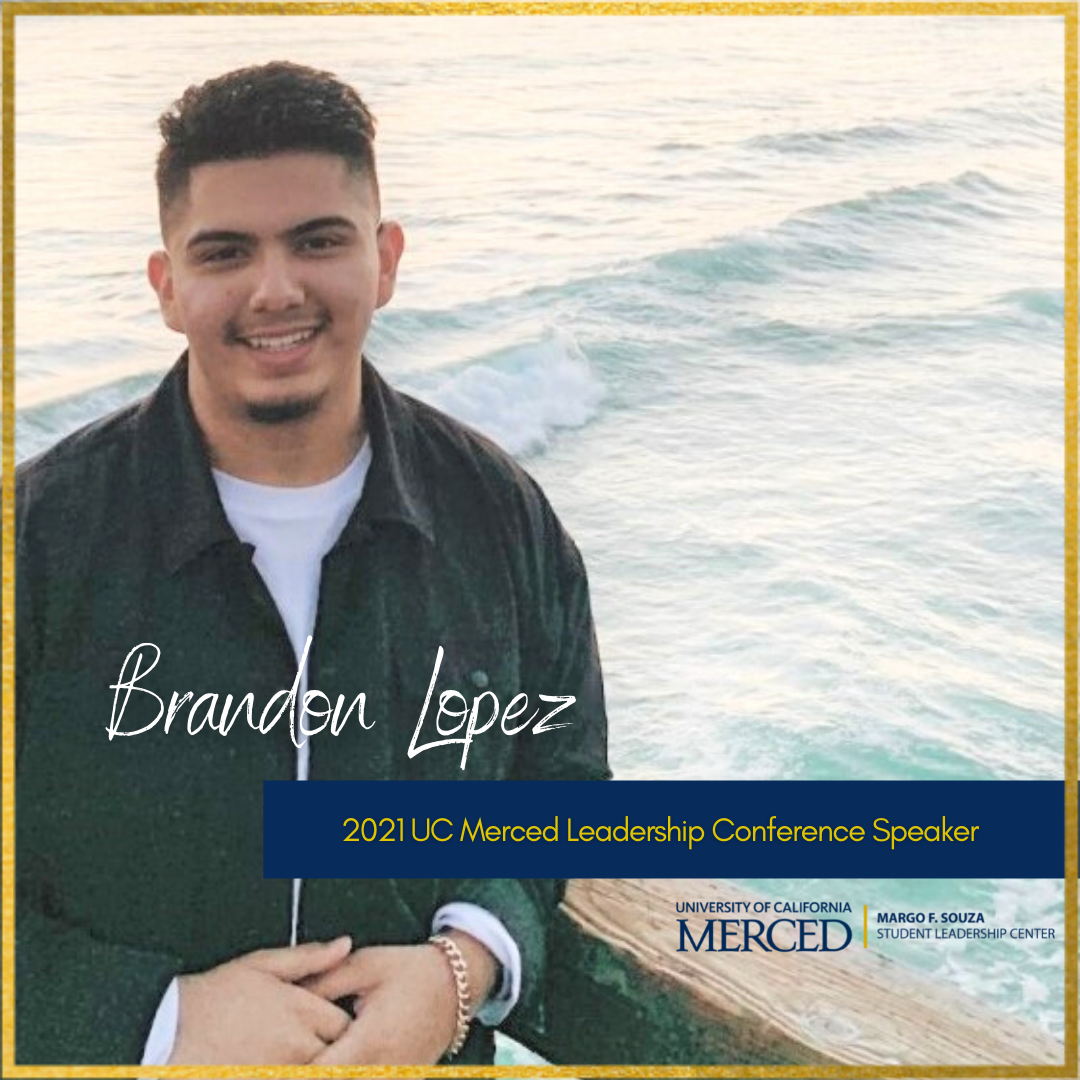 Brandon Lopez  |  Growing up in the heart of California in Modesto, CA, Brandon can definitely say that he is "valley proud" and so glad that he can call UC Merced home. Brandon is a second-year, first-generation, Chicano majoring in Mechanical Engineering. He is currently involved in UC Merced's Yosemite Leadership Program and the Leadership & Service Living Learning Community with the intentions of becoming a better leader, learning more about himself, and making life-long connections.
Brandon is honored to speak at the 2021 UC Merced Leadership Conference because leadership means a lot to Brandon. Brandon says that he has seen the power great leadership has and the lasting impact it can have.
"Personally, I have been able to find my inner voice through my leadership experiences," Brandon said. "And I know the more I practice it, the greater the impact it can have. Everyone is a leader in their own way and I cannot express the excitement I have to celebrate my Bobcat family for all their accomplishments." 

---
Thank you again to all who attended the Conference! See you next year!
Contact: Lead@ucmerced.edu
---
Special Thanks to our Leadership Conference Planning Committee:
Emily Slocum, RLATG, Animal Care Supervisor, DARS 
Lizbeth Lupi, Employer Relations Manager, Center for Career & Professional Advancement, Office of Leadership, Service, and Career 
JaeJae Julian, Interim Director, Alumni Relations 
Alejandro Delgadillo, Associate Director for Educational Equity and Access, Calvin E. Bright Success Center 
Janet Norio, Chair, 2021-22 Souza Leadership Center Student Advisory Board 
Jess Évora, Associate Director, Souza Leadership Center, Office of Leadership, Service, and Career
---